3pcsHerbal Antibacterial Cream Antipruritic Psoriasis Dermatitis Eczema Relief Antibacterial Natural Lithospermum Body Skin Care3pcsHerbal Antibacterial Cream Antipruritic Psoriasis Dermatitis Eczema Relief Antibacterial Natural Lithospermum Body Skin Care
3pcsHerbal Antibacterial Cream Antipruritic Psoriasis Dermatitis Eczema Relief Antibacterial Natural Lithospermum Body Skin Care
Regular price
$9.17 USD
Sale price
$9.17 USD
Unit price
per
Sale
Sold out
SPECIFICATIONS
Use: Body
Shelf Life: 2 years
Origin: CN(Origin)
Number of Pieces: Combo
NET WT: 60g
Model Number: Antibacterial Cream
Item Type: Cream
Ingredient: Herbal ingredients,Cnidium monnieri, Lithospermum erythrorhizon Sieb
Gender: Unisex
GZZZ: YGZWBZ
Features5: Psoriasis, skin fungus treatment
Features4: Treatment of body skin tools to keep skin healthy
Features3: Relieve skin itching, fresh leather, mosquito bites
Features2: Natural ingredients, easy to carry and easy to use
Features1: Herbal antibacterial cream, anti-itch and antibacterial
Feature: Antibacterial
Country/Region of Manufacture: China
Certification: GZZZ
Brand Name: Yoxier
Dermatologist Recommended!Medicated formula penetrates the skin. Uses For the relief of symptoms associated with psoriasis and/orseborrheic dermatitis including itching, scaling, flaking, redness and irritation of the skin. Helps prevent recurrence.
INGREDIENT
Euphorbia fischeriana Steud,Lithospermum erythrorhizon Sieb. et Zucc,cotexdictamni,Cnidium monnieri(L.)Cuss,Menthol,Chlorhexidine Diacetate,Glycerol,Purified water,etc.
FEATURE
It has strong antibacterial effect on Staphylococcus aureus, Escherichia coli and Candida albicans. Uses For the relief of symptoms associated with psoriasis and/orseborrheic dermatitis including itching, scaling, flaking,redness and iritation of the skin.Helps prevent recurrence.
Net Weight:20g/1PCS
Quantity: 3 pieces
Shelf life: 24 months
keep tightly closed when not in use. store away from excessive heat and cold.
Suitable for the following situations
Itchy skin Red and swollen skin
Skin allergies Dermatitis
Eczema Mosquito bites
Specially developed to deal with skin problems
Fast, accurate, ruthless
Antipruritic:Aiming at the itching and redness of the skin,and can be relieved in time
Good effect:Relieve skin itchiness, penetrate the skin
Not repeat:Use periodically to repair problematic skin and refuse to repeat
* There are many anti-itch creams on the market, most of them are cheap, the packaging is rough,
and they seem to be similar.In fact, there are huge differences, and harmful ingredients can cause damage to the skin.
Harmful ingredients
Hormone
Excessive heavy metals
Healthy ingredients, safe to use
Euphorbia fischeriana Steud
Lithospermum erythrorhizon Sieb
Cnidium monnieri
Menthol
Modern technology is more effective with plant formula
All kinds of itching
Herbal antibacterial
Soothing
Effectively relieve itching, penetrate deep into the skin layer to inhibit bacteria
Herbal liquid is antibacterial, and the molecule repairs damaged skin
Nourish and care, herbal extracts are gentle and non-irritating to restore skin tissue to normal
ECZEMA FROSTBITE
DERMATITIS PSORIASIS
FOOT ODOR SKIN SCALES
GENITAL ITCHING SCROTUM ITCHING
URTICARIA ALLERGIES
MECHANISM OF ACTION
HERBAL ANTIBACTERIAL CREAM
Anti-anaerobe effect
Hinder bacterial metabolism
Eliminate bacteria
Continue to use, care for your skin
Clean the skin.
Take an appropriate amount of this product and apply it evenly to the desired area, massage for a while to help it penetrate.
You can continue to use it after the symptoms disappear to reduce recurrence.
WARNINGS
For external use only.Avoid contact with eyes.
Do not apply directly on the ulcerated skin. If you have any discomfort, please stop using it.
Please keep this product out of reach of children.
Children must be used under adult supervision.
If an allergic reaction occurs, stop immediately and consult a doctor in time.
Share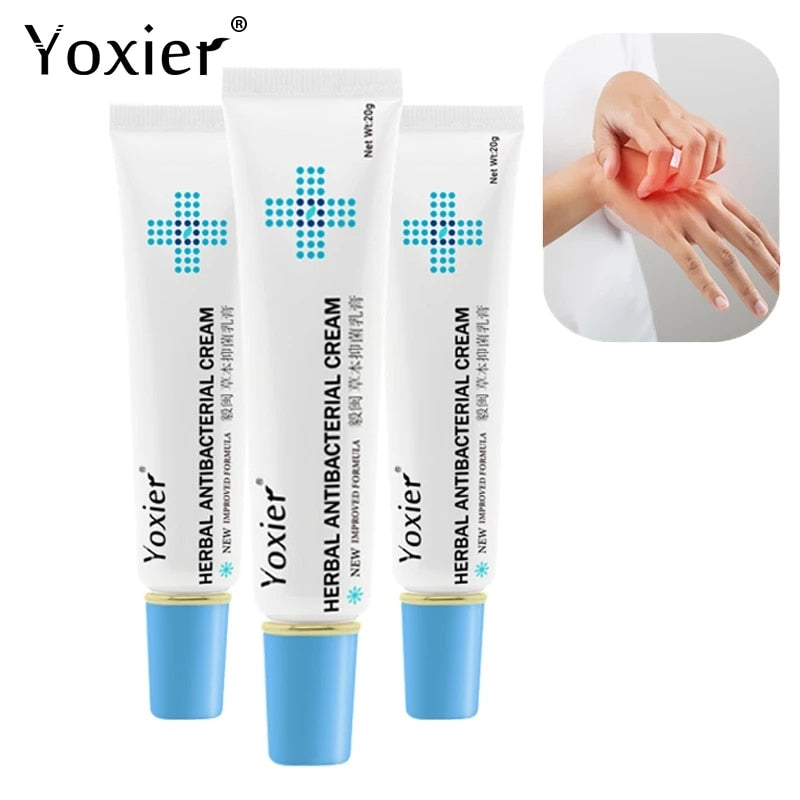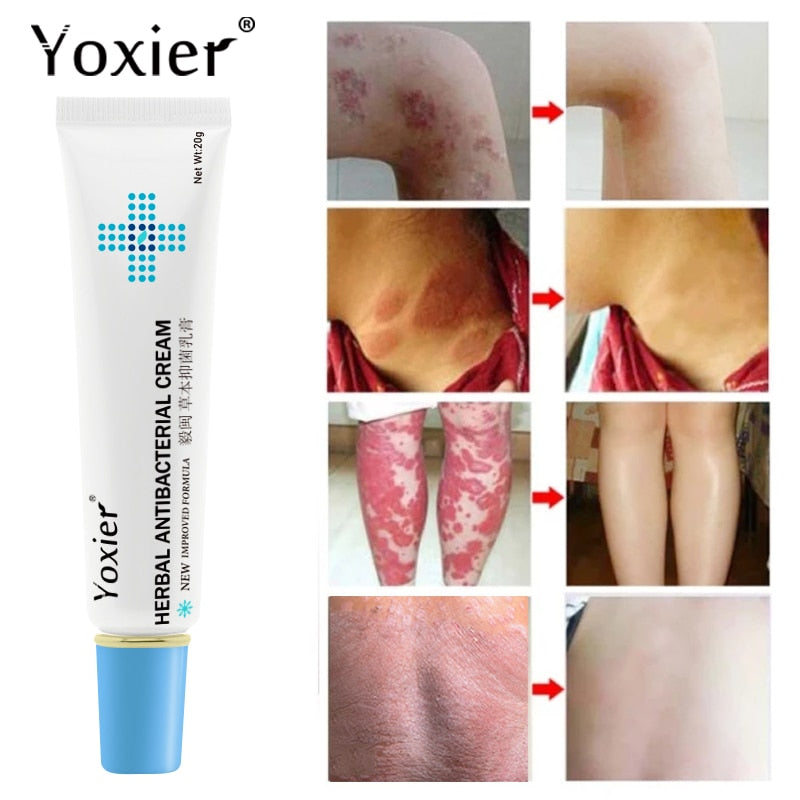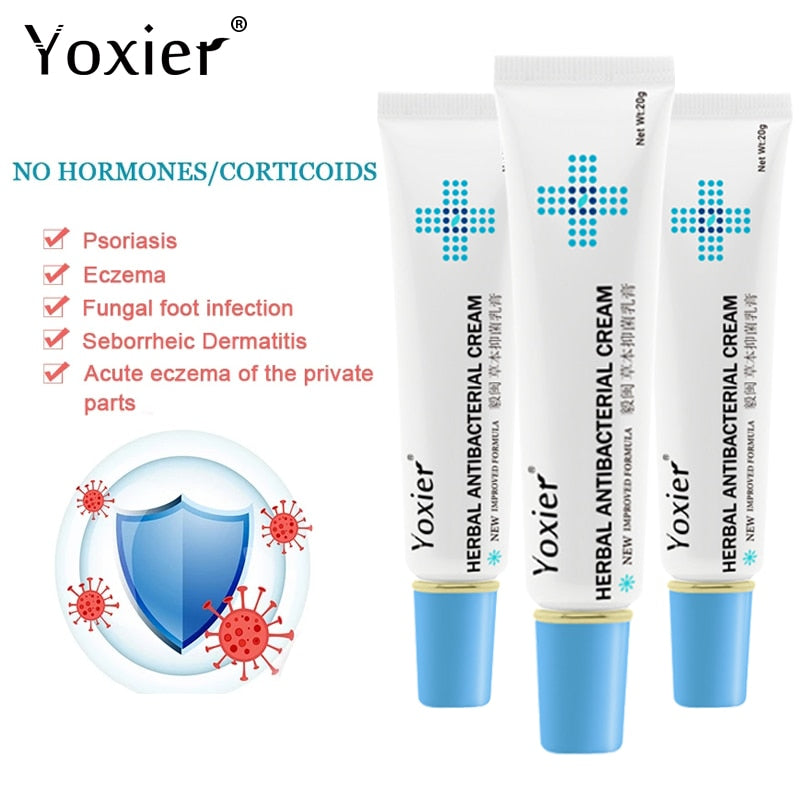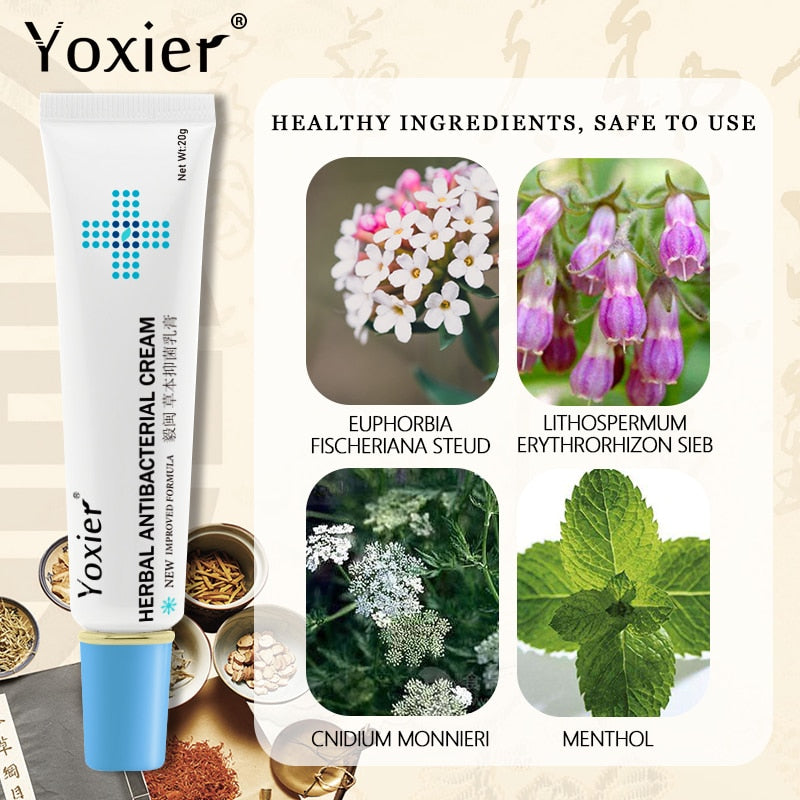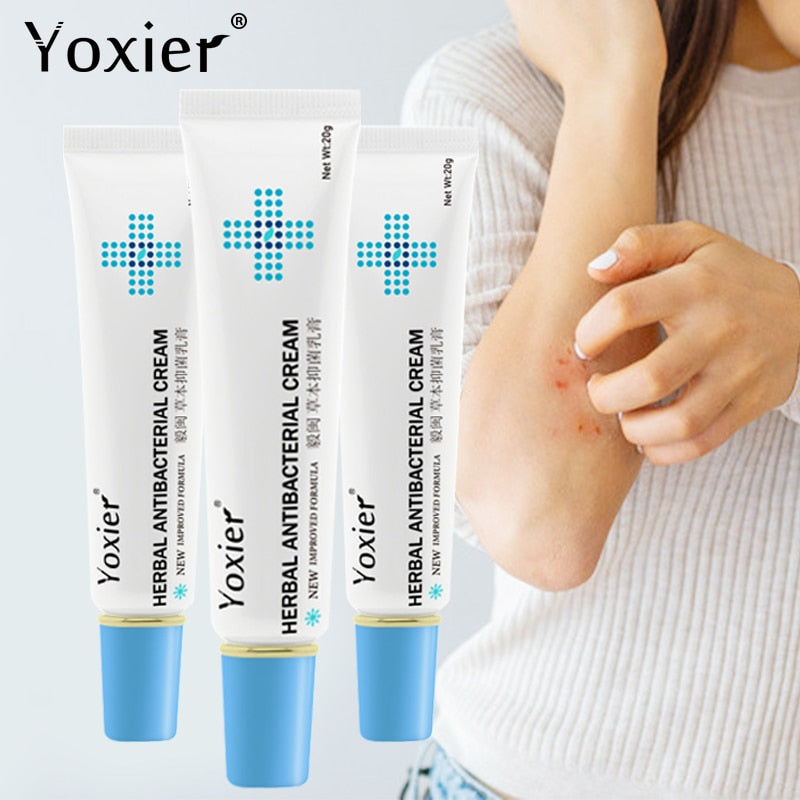 In Store Purchases
All in store items availble for next day delivery dependent on location of country.
Hassle-Free Exchanges

We offer various methods of payment and a secure checkout. Privacy is assured.