ammoon Digital Audio Mixer professional Mixing Console Mini 4-Channel 2-band EQ Built-in 48V Phantom Power 5V USB Powered mixerammoon Digital Audio Mixer professional Mixing Console Mini 4-Channel 2-band EQ Built-in 48V Phantom Power 5V USB Powered mixer
ammoon Digital Audio Mixer professional Mixing Console Mini 4-Channel 2-band EQ Built-in 48V Phantom Power 5V USB Powered mixer
Regular price
Sale price
$62.50 USD
Unit price
per
Sale
Sold out
SPECIFICATIONS
Output Level: main mix out--max.6.5V
Origin: CN(Origin)
Operating System: Windows 2000/XP/7/Vista or higher
Model Number: 4-Channel 2-band EQ Mixing Console
Model: AGM04
Frequency Range: 10-33000Hz, +/-3dB
CH3/4: 550mV/22Kohm
CH2 XLR: 2.5mV/2.2k ohm
CH2 Jack: 15mV/240k ohm
CH1 XLR: 1.5mV/2.2k ohm
CH1 Jack: 10mV/12k ohm(line)
Brand: ammoon
AUX IN: 280mV/10Kohm
AGM04 4-Channel
Features:
4-channel compact size mixing consoledesigned for home studio recording, network live broadcast, karaoke, etc; 5V low voltage power supply design, can be powered by computer, power adapter or 5V power bank via the USB 2.0 jack or Micro USB jack.
2 TRS & XLR combined mono inputs for connection of microphone, instrument or other audio device; Stereo/mono TRS inputs for connection of an audio source with line signal level; 3.5mm AUX input jack for connection of smartphone or other device to use applications to trigger sound effects or background music.
Stereo TRS outputs for connecting another mixer, amplifier or recorder; 6.3mm PHONE jack for connection of stereo headphone, and 3.5mm headset connection with headset microphone input jack and headset headphone output jack can avoid unnecessary noise.
CH1 & CH2 have GAIN, 2-band EQ(HIGH & LOW), PAN and LEVEL controls; the CH1 with +48V phantom power for condenser microphone; CH3 & CH4 with GAIN switch and LEVEL control; TO PC slide switch can select the sound to send to the computer(DRY CH1-2/ INPUT MIX/ LOOPBACK).
When connecting the mixer with a computer using the included USB 2.0 cable, the computer suppliers power to the mixer, at the same time, audio data can be sent between the mixer and computer.

Specifications:
Brand:ammoon
Model:AGM04
CH1 XLR: 1.5mV/2.2k ohm
CH2 XLR: 2.5mV/2.2k ohm
CH1 Jack: 10mV/12k ohm(line)
CH2 Jack: 15mV/240k ohm
CH3/4: 550mV/22Kohm
AUX IN: 280mV/10Kohm
Output Level: main mix out--max.6.5V, stereo out-- 1.0V, phone/monitor out-- max. 6.5V
Frequency Range: 10-33000Hz, +/-3dB
THD: <= 0.05%
Low Range: ±15dB/80Hz
High Range: ±15dB/12kHz
Headphone: Impedance: >=8 ohm
Phantom Power: +48V
Power Supply: USB 5V 500mA
Operating System: Windows 2000/XP/7/Vista or higher; Mac OS 9.1/ OS X or higher
Item Size: 12.8 * 19.2 * 4.7cm / 5.04 * 7.56 * 1.85in
Item Weight: 760g / 1.7lbs
Package Size: 24 * 17.5 * 10cm / 9.4 * 6.9 * 3.9in
Package Weight: 1015g / 2.2lbs

Package List:
1 * Mixing Console
1 * USB Cable
4 * Foot Pads
1 * Users' Manual(English & French & German & Italian & Spanish & Japanese)


AGM02 2-Channel
Specifications:
Brand: ammoon
Model:AGM02
CH1 & CH2 XLR: 2mV/1.8k ohm(gain max)
CH1 Jack: 10mV/ 12k ohm(line)
CH2 Jack: 30mV/ 20k ohm(line), 30mV/240k ohm(guitar)
Output Level: 5.8V max(main, monitor)
Frequency Range: 20-22000Hz
THD: <= 0.05%
S/N Ratio: 80dB
Bass Range: ±15dB/80Hz
High Range: ±15dB/12kHz
Headphone: Impedance: >=16 ohm
USB Interface: USB1.1 compatible, 16-bit delta-sigma, 44.1kHz sampling rates, 48kHz max.
Phantom Power: +48V
Power Supply: USB 5V 500mA
Operating System: Windows 2000, XP or higher; Mac OS 9.0.4 or higher, 10.X or higher
Item Size: 10 * 13.5 * 3.5cm / 3.9 * 5.3 * 1.4in
Item Weight: 443g / 15.6oz
Package Size: 17.5 * 13.5 * 10cm / 6.9 * 5.3 * 3.9in
Package Weight: 615g / 1.4lbs

1. There is no limited stock to fulfill the orders on a daily basis.
2. We use ePacket shipping for most countries, such as United States, Canada, Australia, Russian Federation, Germany, France , Spain , United Kingdom and New Zealand.
3. Priority shipping, fast shipping within 48 hours.
4. No invoice or receipt or promotional materials included.
Share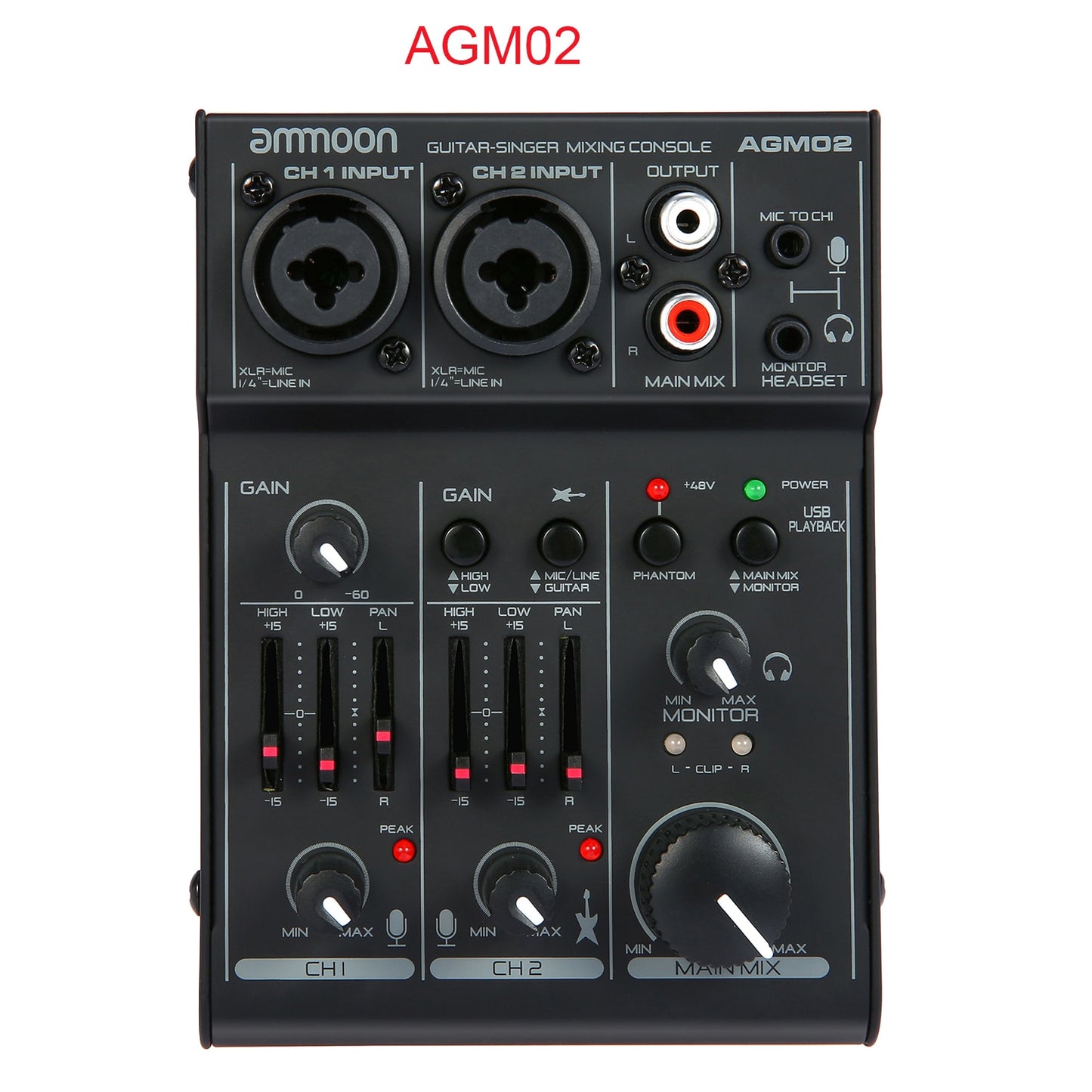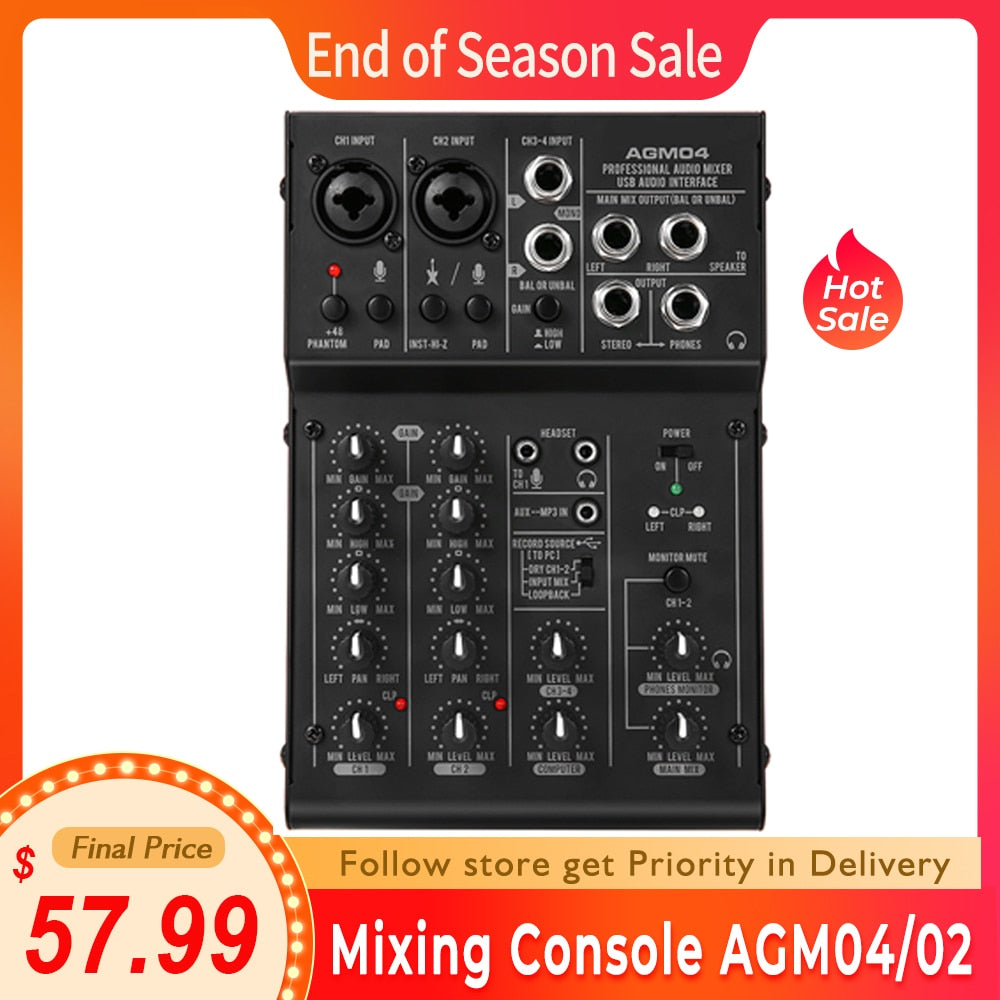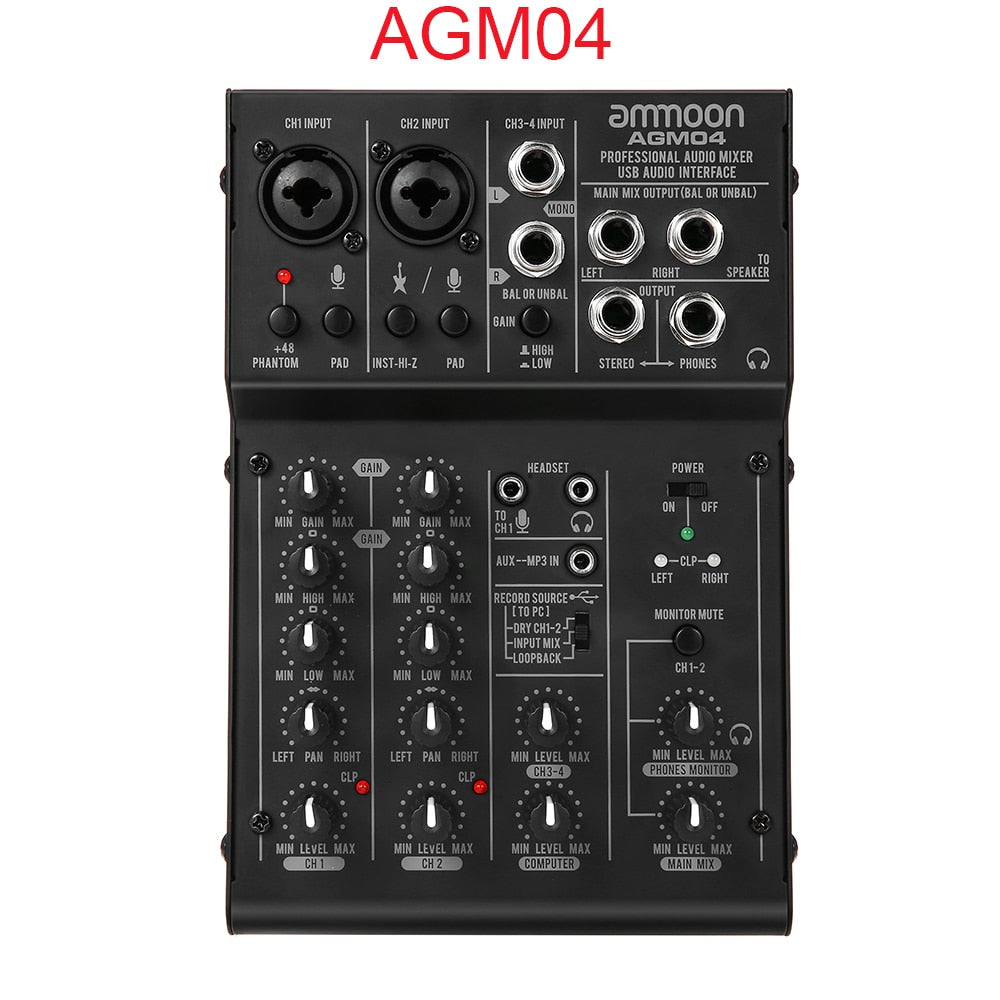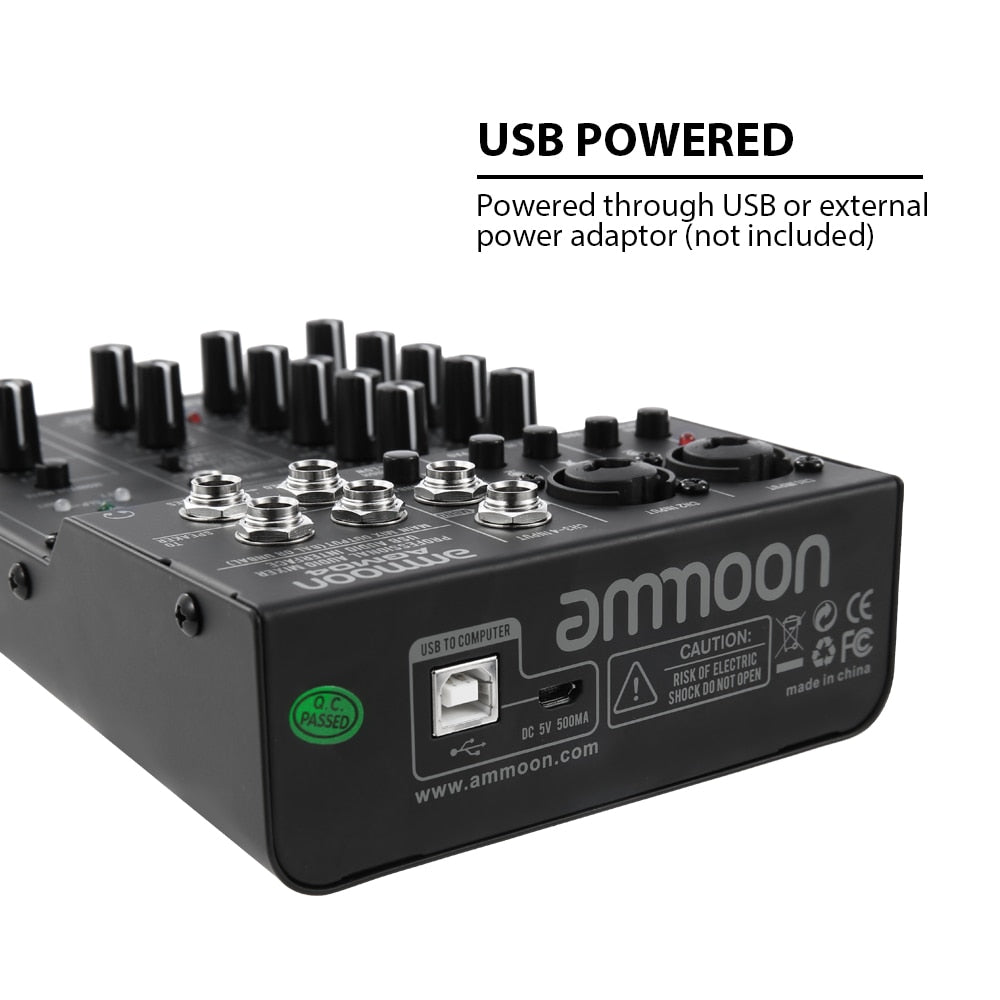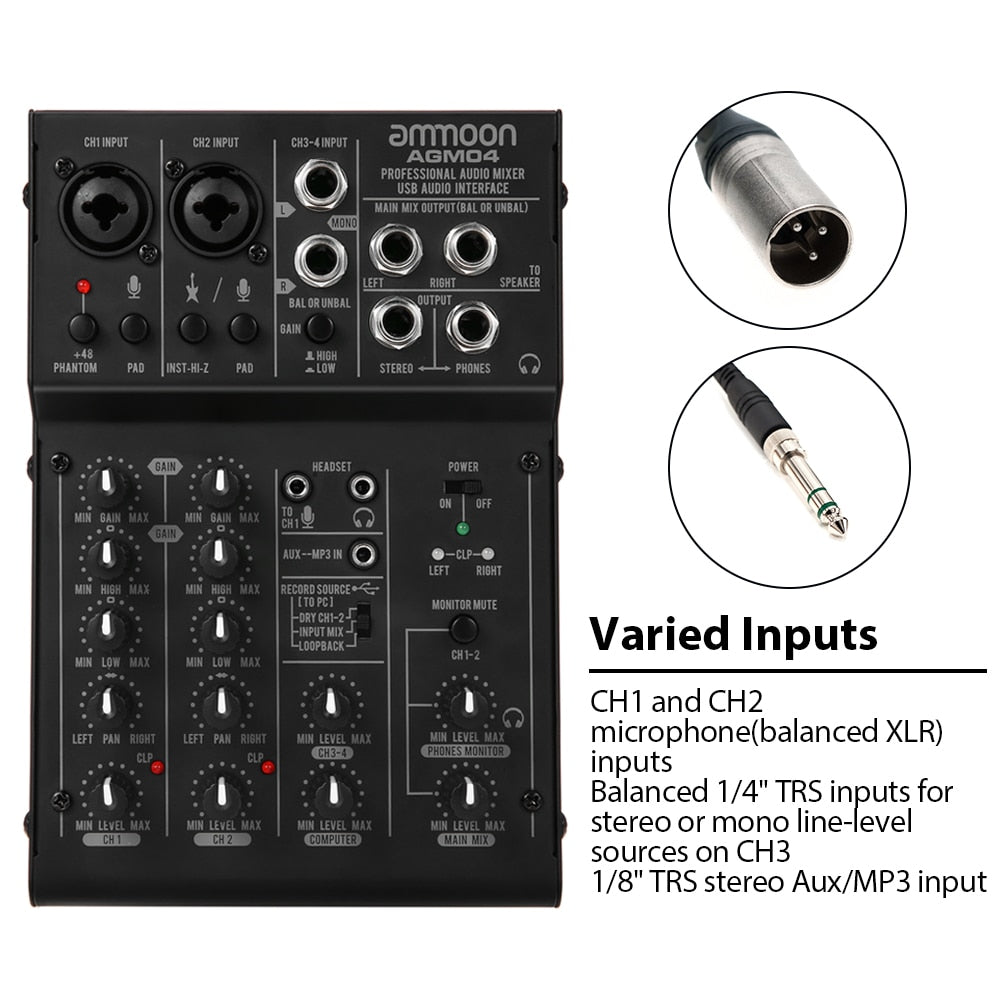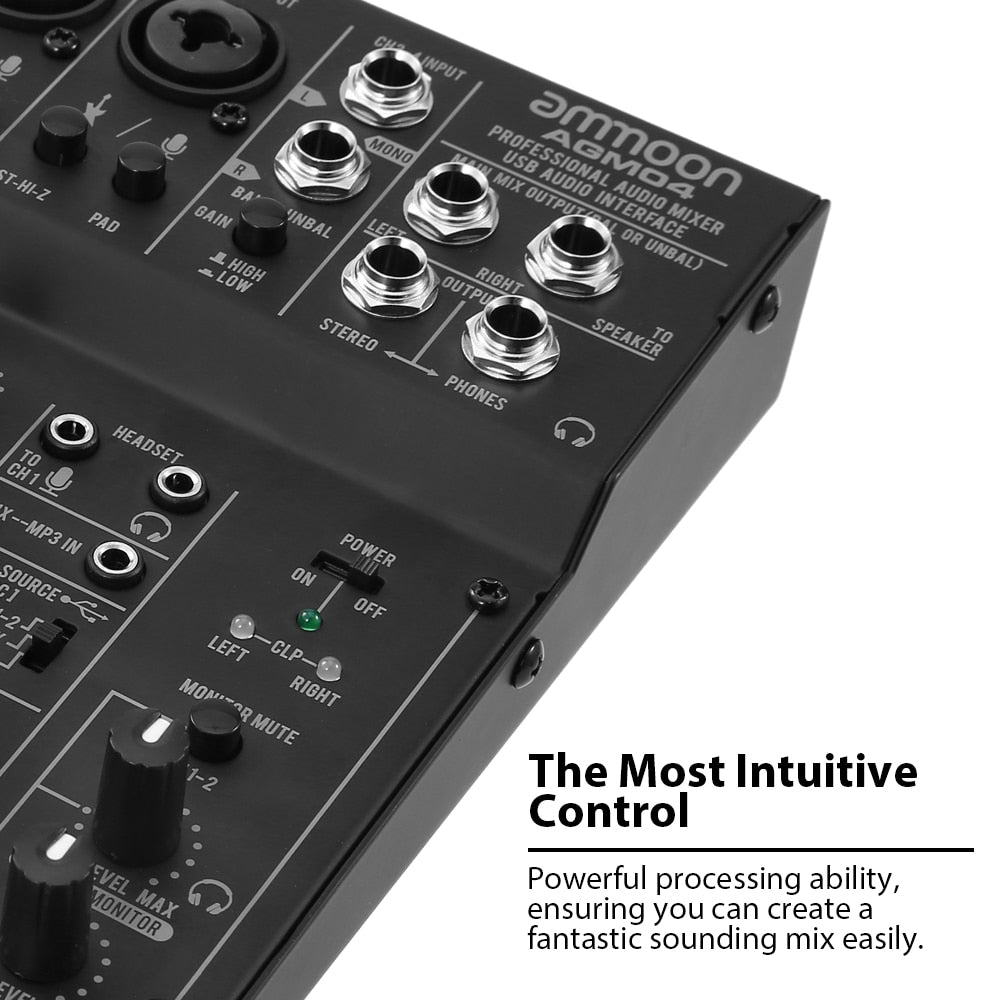 In Store Purchases
All in store items availble for next day delivery dependent on location of country.
Hassle-Free Exchanges

We offer various methods of payment and a secure checkout. Privacy is assured.